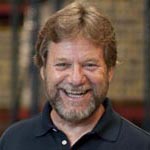 Current position
Founder and Executive Director, Atlanta Community Food Bank
Community Involvement
Atlanta Falcons Advisory Board
Georgia Chamber of Commerce
Regional Commission on Homelessness
Nonprofit Advisory Committee of the Andrew Young School at Georgia State University
Regional Housing Forum (founder)
Metro Chamber Board
Other Hobbies         
Walking, Hiking, Being in Nature, Working in the Yard
Childhood Hero
Grandfather – He helped raise me
What most people don't know about you?
I am shy
Bill Bolling is the founder of the Atlanta Community Food Bank (ACFB) and has served as its executive director since 1979. Through ACFB, he oversees the distribution of millions of pounds of food and grocery products each year through a network of more than 600 nonprofit partner organizations that feed the hungry across Georgia. As a charter member of Feeding America, the national network of food banks, Bill was instrumental in the start-up of food banks across the country. He is a frequent speaker on topics related to hunger, poverty, regionalism, affordable housing and public policy reform. Prior to his association with the Food Bank, he served as director of community ministries for St. Luke's Episcopal Church in Atlanta.
Born and raised in North Carolina, Bill holds degrees from Central Piedmont College and Appalachian State University. He has a Master of Arts degree in Psychology and Counseling from West Georgia College. Bill's many awards include the Atlanta Regional Commission's Golden Glasses Award for Visionary Leadership, the Martin Luther King Jr. Humanitarian Award, the Sidney Marcus Public Service Award of the Atlanta Fulton County League of Women Voters, UNICEF's Child Survival Award, Georgia Department of Community Affairs Housing Champion Award, Atlanta Urban League Distinguished Community Service Award, and the John Van Hengel Hunger Fellow Award presented by Feeding America. In 2012, Georgia Trend Magazine named Bill Georgian of the Year, and the magazine has consistently named him among their 100 Most Influential Georgians.