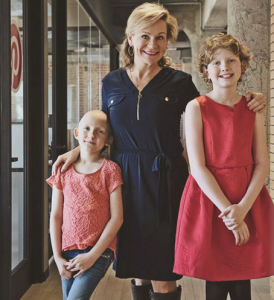 Current Position
Founder and CEO, Rally Foundation for Childhood Cancer Research
Community Involvement
Dean is actively involved with the Alliance for Childhood Cancer, and she serves on the Board of Directors for Living Missions Peru.
Hobbies              
I love traveling — whether a weekend getaway or a long trip, being with friends, sailing, lake-life or walking on the beach.
Recent Books
Catherine the Great and What I Saw at the Revolution
Childhood Hero
Casper the Friendly Ghost
What most people don't know about you?
I broke my thigh playing football in the second grade and was in traction and a body cast! The saddest part — I was going to be on the Captain Kangaroo show the next day, but I was in traction at Piedmont Hospital. L
In 2005, Dean founded the Rally Foundation for Childhood Cancer Research. She had little inkling back then that her simple but sincere offer to help the family of a cancer-stricken young boy on her husband's baseball team would result in a national fundraising organization for pediatric cancer research. Nor could she have envisioned that this nonprofit enterprise would raise more than $11 million to date.
Cancer is the #1 disease killer of kids in America ages 1 to 19, yet less than 4% of the National Institutes of Health's budget goes to funding childhood cancer research. Rally seeks to fill that funding gap. The foundation funds the most promising and cutting-edge research worldwide. The Rally Medical Advisory Board consists of top childhood cancer researchers throughout the United States and Canada. Utilizing a dual peer review process, Rally makes its national grant selections from the highest scoring applications. Since its founding, Rally has funded 252 childhood cancer research projects. Several direct success stories can be attributed to these grants made at places like MD Anderson Cancer Center, University of Alabama at Birmingham, City of Hope, Children's Healthcare of Atlanta and Memorial Sloan Kettering Cancer Center.
Rally advances public awareness about the issues surrounding childhood cancer by advocating on a national level. Rally is a proud member of the Alliance for Childhood Cancer alongside more than 30 national patient advocacy groups and professional, medical and scientific organizations. In addition to regularly attending childhood cancer briefings at the White House, Rally was invited and attended former Vice President Joe Biden's Cancer Moonshot Summit in 2016. Rally also sponsors CureFest for Childhood Cancer, an annual event that takes place in Washington D.C., and brings thousands of childhood cancer advocates together.
Recently, Rally took the lead on advocating for, and successfully securing, funding from the Department of Defense's (DoD) Congressionally Directed Medical Research Programs (CDMRP) to research cancers affecting adolescents, young adults (AYAs) and children. This is the first time that AYAs and all pediatric cancers have been included in the DoD CDMRP budget, and it was made possible by a white paper Dean wrote to make a case in favor of research being funded for these specific demographics. From there, Rally, The Nicholas Conor Institute and others in the childhood cancer community worked to advocate to the DoD subcommittee members of Congress for the funding. Dean and Rally will continue to work towards AYA and pediatric cancers having their own research program in the DoD CDMRP.
Rally is also a leader when it comes to driving awareness for childhood cancer in Georgia. In 2016, Rally was responsible for bringing more than 25 organizations together at the State Capitol when Georgia Governor Nathan Deal declared September as Childhood Cancer Awareness Month.
Additionally, Rally provides financial assistance for the families of children who have been diagnosed with cancer through the Rally Family Emergency Fund. Through the Rally Kid Program, Rally serves more than 500 children who are fighting or have ever fought cancer and their families by providing emotional support, resource referrals and opportunities for engagement with other families.
Rally delivers 93 cents out of every dollar to research. Rally holds a 4-star rating from Charity Navigator, is recognized as a GuideStar Platinum Participant and received the Independent Charities Seal of Excellence from America's Best Charities.