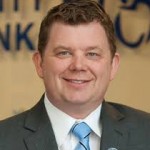 Current Position
CEO, Atlanta Community Food Bank
Community Involvement
Leadership Atlanta, Class of 2015
Georgia Food Bank Association, Treasurer
Rotary Club of Atlanta
Hobbies              
Pinochle
TV and film
Sports
Wrestling with my three little kids
Recent Books
"Difficult Men: Behind the Scenes of a Creative Revolution: From 'The Sopranos' and 'The Wire' to 'Mad Men' and 'Breaking Bad'," by Brett Martin
"Our Kids: The American Dream in Crisis," by Robert Putnam
"What Work Is: Poems," by Philip Levine
"Quiet: The Power of Introverts in a World That Can't Stop Talking," by Susan Cain
Childhood Hero
Legendary College Basketball Coach Dean Smith
What most people don't know about you?
I've lived in 14 different towns/cities in 12 different states, and I have a Masters of Fine Arts degree in Creative Writing.
The Atlanta Community Food Bank, which provides fresh, nutritious food to more than 755,000 Georgians facing hunger each year across greater Atlanta and North Georgia, named Kyle Waide as its new President and CEO in June 2015. Kyle previously served for three years as Atlanta Community Food Bank's Vice President of Partner Operations, leading the organization to record-breaking years of food distribution to the community. He follows Founder and Executive Director Bill Bolling, who announced in 2014 that he would step down from his position, following 36 years of leadership.
Waide recently led the Food Bank through the passage of a bold, new ten-year strategic plan that will significantly increase access to nutritious food across metro Atlanta and North Georgia for those struggling with hunger.
Through Waide's collaborative efforts to improve distribution best practices, the Food Bank has consistently and dramatically increased its distribution of food, providing millions of additional meals a year to those in need. The Food Bank also has built systems to increase the nutritional quality of its product offerings and significantly grown the volume of fresh produce delivered to the community.
Prior to joining the Food Bank, Waide held management roles at The Home Depot Inc. across diverse areas, including disaster relief, corporate responsibility, community affairs and store operations. Waide previously served as part of the management team that created and launched Charity Navigator, the nation's premier charity evaluation service, and he was a Teach For America corps member, teaching eighth grade math and language arts in Compton, CA.  He is a graduate of Harvard University and resides in Decatur with his wife, Christina, and their three children.
The Atlanta Community Food Bank's mission is to fight hunger by engaging, educating and empowering the community. The Food Bank procures more than 60 million pounds of food and groceries each year and distributes it to more than 600 nonprofit partner agencies serving families and individuals in 29 metro Atlanta and north Georgia counties. http://www.acfb.org/