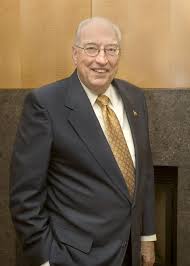 Position
Former Chairman & CEO, UPS
Community Involvement  (past Chair or Board member of the following)
Annie E. Casey Foundation
The Carter Center
Center for Disease Control (CDC)
United Way of America
United Way of Metro Atlanta
Columbia/HCA Healthcare Corporation
Ball State University Foundation
Hobbies              
Helping disadvantaged children
Recent Books
Childhood Hero
What most people don't know about you?
I got the nickname "Oz" in the fourth grade in Kokomo Indiana where I was raised. A friend of mine had a nickname for everybody, and I simply got the nickname Oz because of Ozzy Nelson and Harriet from their TV show.
I played the drums through high school and college and made a little money in college playing in various musical groups.
Kent C. "Oz" Nelson served as Chief Executive Officer and Chairman of United Parcel Service from 1989 to 1996.   He started working at UPS in 1959 right after graduating from Ball State University, and held various positions with United Parcel Service, mostly in the sales and customer service areas.  Oz also started the marketing department in the late 1970s.
I have a small personal connection to Oz since I worked for UPS during his tenure as CEO.  I worked in marketing for UPS when he moved it from Greenwich, CT to Atlanta in 1991.  Approximately 97% of employees in Greenwich, including clerical workers, moved to Atlanta since they could see the advantages of Atlanta and believed Oz was making the move for their benefit.  He was accessible to employees and often ate in the tiny cinderblock lunchroom in the old Greenwich headquarters.  People loved him.
Oz was Chairman of the Annie E. Casey Foundation, the world's largest foundation dedicated to helping disadvantaged children.  He was also a member of the board of directors Columbia/HCA Healthcare Corporation.
More local to Atlanta, he was Chair of The Carter Center and worked closely with Jimmy Carter.  He was also Chair of the Center for Disease Control Foundation and served as a Director of the United Way of Metropolitan Atlanta as well as United Way of America.
He has been active in several educational initiatives including the Partnership for Kentucky Schools and the Atlanta Chamber of Commerce Education Committee.  Nelson was also appointed to the Georgia Governors Education Reform Committee and was on the Board of Trustees of Ball State University Foundation
Ball State University has honored him with two awards: the Distinguished Alumni Award in 1991 and the Business Hall of Fame Award in 1990.  He received an honorary doctoral degree from Ball State University in 1994.  He also received an honorary doctoral degree of management from Kettering University in June 1993.