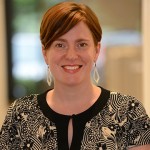 Current Position
CEO, New American Pathways
Community Involvement
Coalition of Refugee Serving Agencies (CRSA)
Welcoming Atlanta Task Force
Sheltering Arms – East Lake
Hobbies         
Dancing, Cooking, Working Out
Puzzles
Spending Time with Husband, Eric, and Son, Henry
Childhood Hero
Wonder Woman
What most people don't know about you?
I am a little bit of a Star Wars geek and an avid Pez collector.
New American Pathways is a new organization created on October 1, 2014, by the merger of Refugee Resettlement and Immigration Services of Atlanta (RRISA) and Refugee Family Services (RFS). Before the merger, Paedia served for four years as RRISA's Executive Director. She rose from a program-management role to lead RRISA successfully through a financial and program restructure that saw the organization expand beyond resettlement services alone. Paedia is a recognized leader in the refugee community. Under her leadership, New American Pathway's resettlement program has been recognized nationally as one of the most successful in the country, placing 80% of refugees in jobs within their first six months of resettling in the U.S. Earlier in her career, Paedia served in fundraising and program roles at Junior Achievement Worldwide, the Carter Center, and Catholic Social Services. She has a Master's degree in International Affairs and Development from Clark University, and a BA in International Relations from Georgia State University.