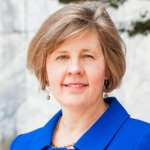 Current Position
Executive Director, Voices for Georgia's Children
Community Involvement
Member, The Children's Cabinet of Georgia
Member, The Atlanta Community Food Bank Policy Advisory Committee
Co-chair, The New School Parent Committee
Co-founder, The BrainTrust Women's Networking Group
Hobbies              
Classical piano
Painting
Photography
Recent Books
All the Light We Cannot See
The Known World
Deep Down Dark
Angle of Repose
Childhood Hero
Elizabeth Cady Stanton
Glenn Gould
What most people don't know about you?
Took a class with Carl Sagan and helped discover a ring of Saturn in college
Emily joined Voices for Georgia's Children in 2015 as its second Executive Director.  Established in 2003, Voices for Georgia's Children (Voices) is a nonprofit child policy and advocacy organization.  Its mission is to be a powerful, unifying voice for a public agenda that ensures the well being of all of Georgia's children.  Voices provides the necessary research-based information, measures, collective voice and proposed legislation to help guide decision makers in supporting policies that ensure Georgia's children grow up to be healthy, educated and productive citizens and competitive on the world stage.
Earlier in her career, Emily worked in Washington, D.C., for the Office of Management and Budget as a Budget and Policy Analyst and the Executive Office of the President, as Senior Policy Advisor, Office of Science and Technology Policy.  She later joined CARE USA, where she served as Director, Foundation Relations, and Director, Policy Analysis, leading a team responsible for developing policy analysis and advocacy strategies for CARE in the US and internationally. In 2010 she became Executive Director for Refugee Family Services, a nonprofit supporting the needs of refugee women and children.  In 2014, she co-led the merger of Refugee Family Services with Refugee Resettlement and Immigration Services of Atlanta, creating New American Pathways.
Emily attended Cornell University, where she earned bachelors degrees in Physics and Soviet Studies, and Princeton University, earning an MPA in International Affairs.  At Princeton, she was also Managing Editor of the Journal of Public and International Affairs.   Emily is married to Neil Kinkopf, Professor of Law at Georgia State University. She is the mother of a daughter, Ace, and the caretaker of two energetic labs, Louie and Max.