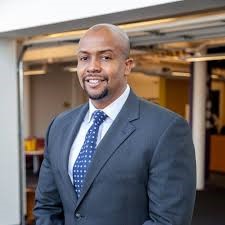 Current Position
President and CEO, Big Brothers Big Sisters of Metro Atlanta (www.bbbsatl.org)
Community Involvement
2020 Leadership Atlanta class
2018 Atlanta Business Chronicle 40 under Forty Award.
Social Entrepreneur Program of the Year Award from the Manhattan Institute
Former client and Board President of Center for Community Alternatives
Hobbies              
Helping out with my son's various sports teams
Boot camp
Obstacle races like Savage and Spartan
Recent Books
"Blue Ocean Strategies"
"Traction"
Childhood Hero
My grandfather, Paul D White. He was the first African-American judge elected in Cleveland and BakerHostetler's first minority partner and a pioneer for minorities in the legal profession. The firm created The Paul D. White Scholarship in his honor to provide minority law students with valuable experience early in their careers. It is awarded annually to law students of black or African-American, Hispanic or Latino, Native Hawaiian or Pacific Islander, Asian, American Indian, or Alaska Native descent.
What most people don't know about you?
At 17, I got caught up in a lifestyle that caused me to lose everything. I was kicked out of school, lost my job, and my family was publicly humiliated. Due to one bad decision, I was incarcerated in the New York State Department of Corrections.
I was the first student in U.S. history to take the SAT behind bars.
Once released, I worked tirelessly between day and night classes and part time jobs to finish my credits and graduate on time.
I was accepted to Hampton University on a partial track scholarship.
I left Hampton University at the age of 19 to become a social entrepreneur
Big Brothers Big Sisters of Metro Atlanta's mission is to recruit volunteers to become mentors to children facing adversity. Nearly half a million children in Metro Atlanta live in communities with low or very low child well-being.  BBBS' goal is to serve more children and increase positive outcomes by matching them with an adult who will ignite their full potential.  BBBS' outcomes are impressive. 97% of the children in their program (2018) are promoted to the next grade level, 88% graduate high school on time, 93% reported plans to pursue post-secondary education or the military, 97% avoid the juvenile justice system, and 93% improve or maintain social well-being.
Kwame joined BBBS Atlanta in March 2018, succeeding Janice McKenzie-Crayton, who retired after more than 25 years with the organization.  A native of Syracuse, N.Y., he is the son of two educators. His mother was the first African-American elected to the local school board. Johnson left college to work under his first professional mentor, the founder and CEO of the Woodson Center, an organization committed to "transforming lives, schools and troubled neighborhoods." A condition of hire was that he complete his college studies while working full-time. During his seven years at Woodson, Johnson earned his bachelor's degree in business administration at the University of Maryland.  Subsequently, he was senior director of Donor Advised Services with Charities Aid Foundation of America and director of corporate relations with Communities in Schools, both based in Washington, DC.  He moved to Atlanta in 2015, joining PowerMyLearning as executive director.  Under his leadership, the Atlanta region doubled its revenues and in-kind computer and software donations and expanded its operations to 15 area schools serving roughly 1,500 students.  Kwame and his wife reside in Alpharetta with their 6-year-old son.