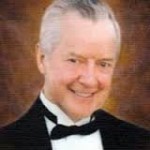 John H. McDonald, 83, of Atlanta died on Friday, the 13rd of September 2016.
He started his career with Douglas L. Elliman & Co., the real estate concern in New York.  John continued his career in investment consulting in Atlanta, Georgia.  Most recently, John was an independent investment banker in Atlanta after retiring as a partner in the Bock, Benjamin Company, a former investment bank in Atlanta.
He had a strong interest in improving education and was involved in many philanthropic causes. He was a supporter of the Atlanta chapter of the "I Have A Dream" Foundation, McCallie School, Boys and Girls Club, Year Up Atlanta, Peachtree Presbyterian Church, and many other charitable groups.  He was also an extremely active member of the Harvard Business School Club of Atlanta for almost 50 years, having served as president of the club and various other roles.
The family has chosen to honor John's life by establishing a scholarship award for Year Up students in Atlanta. Year Up provides higher education and professional skills training that empower young adults to move from poverty to a professional career in a single year. John, along with four friends and Harvard Business School graduates, helped to start the Year Up Greater Atlanta site in 2008. John loved that Year Up provided a hand up for those with the determination to change their lives.  He served as a founding board member, contributed generously, and worked tirelessly to open doors of opportunity for talented young adults to start careers in business and information technology. Today there are two Year Up sites in Atlanta, Midtown and Alpharetta, serving nearly 300 students annually. Year Up consistently delivers positive outcomes with 90% of graduates being gainfully employed or enrolled in college within four months of completing the program.
The family asks that you make a charitable contribution to Year Up Greater Atlanta to support the John McDonald Memorial Scholarship Award. To learn more about Year Up and to make a tax-deductible donation online, go to www.yearup.org, click  the Donate tab, select the optional specification "I would like to honor…"  and type "John McDonald Scholarship" in the name box.  You will receive an email confirmation of your gift and a gift receipt will be mailed to your home.
John attended the McCallie School, Culver Military Academy, the Georgia Institute of Technology, and was a graduate of the Harvard Business School.  John was the son of the late Mr. John R. H. McDonald and Mrs. Dorcas Hutcheson McDonald of Chattanooga. His grandparents are the late Sir John and Lady McDonald of Glasgow, Scotland, and the late Mr. and Mrs. John L. Hutcheson of Chattanooga. John is survived by his wife, Maria Cabrera McDonald; brother, John "Jack" McDonald; sister, Dorcas Anne McDonald; three children, Anne Arden McDonald, David Hutcheson McDonald, and Julie McDonald Lewis; and four grandchildren.