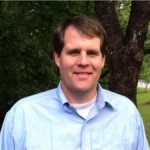 Current Position
Executive Director, International Rescue Committee in Atlanta
Community Involvement
Coalition of Refugee Serving Agencies, founding member (2011) and Chair
City of Clarkston, GA Ethics Committee Member, appointed by city council – 2012 to Present
City of Clarkston, Coin Operated Gaming Machine Task Force
Clarkston Community Center Board Member
Trinity Presbyterian Youth Advisor – 2008 to 2012
Atlanta Area Returned Peace Corps member – 2005 to Present
Trinity Presbyterian Mission Council Leadership – 2005 to 2010
Joining Hands for Justice Committee member – 2005 to 2009
Hobbies              
At this stage in my life I spend my limited free time playing with kids and cutting the grass.
Recent Book
"Go Set a Watchman" by Harper Lee.
Childhood Hero
My grandfather, Ollie Gardner (our son Gardner is named after him).
What most people don't know about you?
I have worked on all seven continents.
J.D. McCrary is the Executive Director at the International Rescue Committee (IRC) in Atlanta and has over 20 years of management experience spanning both the corporate and the non-profit sectors, all with an international focus. J.D. began working with refugees overseas as the Global Field Program Manager for Jumpstart International, overseeing a global nonprofit program providing employment and reconstruction services to war-torn Iraq and Palestine. His overseas experience also includes serving in the U.S. Peace Corps in Morocco.  J.D. began to serve refugees resettled in the U.S. in 2008 with Lutheran Services of Georgia and joined the IRC in 2012 as the Executive Director. During this time, he established the resettlement program in Savannah, GA. He is also the current chair of the Coalition of Refugee Serving Agencies or CRSA. Among other activities, CRSA's signature event each year is the New American's Celebration at the state capitol that brings out hundreds of supporters during the legislative session to support refugees and promote the economic, social, and cultural benefits of all newcomers to Georgia.
J.D. holds a Masters in International Development from Tulane University, has a Certificate in Nonprofit Management from Georgia State University and a B.A. in Education from Georgia Southern University. He is also a graduate of Harvard University Business School's executive course Strategic Perspectives in Nonprofit Management. He lives in Lilburn, GA with his wife Heidi, son Gardner (4), daughter Savannah Jane (3) and a broad selection of animal family members.