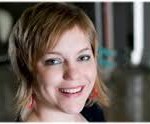 Current Position
Managing Director, Dad's Garage Theatre Company
Community Involvement
Fulton County Arts Council
City of Atlanta Office of Cultural Affairs
Georgia Council for the Arts
Inman Park Business Association, founding Treasurer
The Farmers Fund, board member
Hobbies              
I'm always in the middle of a few books. Exercising keeps me sane. I've recently discovered I like cooking. And even more recently have started hiking and spending more time outdoors!
Recent Book
I adore reading!!! I'm in the middle of two books right now – The Alchemist, which I'm reading for fun. I'm nearly 70% through (thanks, Kindle.) and just started it this weekend. I'm really enjoying it. Before that I read Penumbra's 24 Hour Book Store. You guys, it's so good. Also, I'm in the middle of an online course being taught by Brene Brown about her book Rising Strong. If you haven't read any of her stuff, I'd definitely recommend it. She's all about showing up, taking chances, and basically living live to the fullest. Rising Strong explores how if you do those things, you're going to fall and get hurt. How do you get up, move on, and keep trying?
Childhood Hero
My mom. She is the most courageous person I know. She greets the world with honesty, humor, and joy. Through a brain tumor, heart attack, multiple bouts of spinal stenosis, and other medical and personal crisis, she's always found reasons to joke, take care of others, and find joy in the small things in life. I've learned how to prioritize my life, what compassion means, and how to show up for others in my life because of the example of my mom.
What most people don't know about you?
I love cartoons. If I'm watching TV, it's either a cooking show or a cartoon.
Dad's Garage Theatre Company was founded in 1995. Dad's Garage transforms individuals, communities, and perspectives using laughter. The small theater company has achieved international recognition for original stage productions and improvisational comedy.   Dad's Garage entertains roughly 30,000 people each year at its home in Atlanta, public events across the continent, and festivals across the globe.
Lara moved to Atlanta in 2007, joining Dad's Garage as Development Director.   In 2010, Lara became Managing Director of Actor's Express. While there, she helped lead the organization through a financial crisis, retired 26% of the debt in two years, and led the organization through a five-year strategic planning process.
In 2012, Lara returned to Dad's Garage as Managing Director, teaming with Dad's Garage Artistic Director Kevin Gillese.    Lara helped lead the organization through losing their home of 18 years, including securing temporary space and purchasing a long-term home through a nontraditional capital campaign. The new home, located in the Old Fourth Ward, opened to the general public in the winter of 2015.
Lara was born in St. Louis, Missouri and was in her first show when she was seven. By the time she graduated from high school, she had performed in nearly thirty shows. During that time she discovered that she preferred to be behind the scenes. She attended Webster University's Theatre Conservatory and graduated Magna Cum Laude with a Bachelor of Fine Arts in Stage Management. While studying, she created an internship at the Alliance Theatre, in administration and production, as well as at the Municipal Opera of St. Louis in administration.
Lara is a graduate of the LEAD Atlanta Class of 2014.  She was named one of the 40 under 40 in the Atlanta Business Chronicle in 2015.