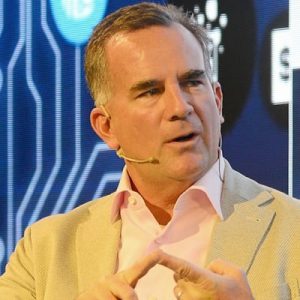 Position:  former SVP, Oracle
Recent Community involvement 
Board member, Persado
Board member, Integrate
Creator & Leader, Briston UK Cohort Startup Cloud Accelerator
Co-Founder, St John at Hackney Brewery
Volunteer, Charity Water
Bio (from his obituary):
Reggie Bradford, 51, passed away on Monday, Oct. 22 in his London home, after his courageous sixteen-month battle with pancreatic cancer. His personality filled any room, and Reggie's vivacious spirit never failed to energize people.
In business, he was a serial entrepreneur and global technology executive. He served as a founder and executive of many companies, including Vitrue, the social media marketing platform company he sold to Oracle in 2012. He most recently served as the Senior Vice President of the Oracle Global Startup Ecosystem, Oracle's startup program supporting entrepreneurs and innovators across the globe. Reggie also served as President and board member of TANDBERG Television, which was later acquired by Ericsson. Throughout his career he had many executive roles including President and CEO of N2 Broadband; Chief Marketing Officer at WebMD; and various management positions at Miller Brewing Company. He received a BBA in Finance from the University of Georgia and an MBA from Emory University.
He served on numerous advisory and non-profit boards. Reggie also received a number of industry accolades recognizing his success as an entrepreneur and Internet visionary, including Business Insider's 2014 Most Influential People in Cloud Computing; Massachusetts Institute of Technology's Distinguished Entrepreneur Award in 2013; Ernst & Young's Entrepreneur of the Year Award in 2012. Most recently, he achieved another lifelong dream of his when he co-founded St John at Hackney Brewery in London.
Known for his candor, humor, generosity, inclusivity, and kindness, even his presence could make you feel like the person you wanted yourself to be. Above all, he was a family man. The eight Bradfords spread their time across Atlanta, London, Nantucket and other places all over the world. His beloved wife Holly and six children (Reilly, Caroline, Reeves, Piper, Bo and Rhett) were absolutely everything to him. Holly was his "rock and Angel" and his children his greatest pride and blessing. His ultimate desire in life was to make his Lord, Holly and his children proud of him. Reggie also had a large extended family that meant so much to him. He strived to live every day to the fullest and to serve as "salt and light" for others, making a positive Godly impact on everyone he encountered.
Years ago, he began writing his personal mission statement to serve as a guiding force in his life for good. It stayed taped to his bathroom mirror as a daily reminder. He spent the last few years going public with those values both to have others hold him accountable and to inspire others. Reggie filmed a video based on the importance of personal mission statements and values. It can be viewed on YouTube. Reggie often used the phrase, "Be Bold" in both his personal and professional life. He would encourage others to be bold, take chances, live out your dreams, and dare to achieve. In true Reggie fashion, he emailed a friend a few days prior to his passing: "Please don't be sad for me. I've packed 100 years into 50 years and grateful for all my experiences. I wish the best for you. Always remember: Be Bold!"
Reggie is survived by his loving wife Holly; his six children: Reilly (21), Caroline (18), Reeves (16), Piper (13), Bo (11) and Rhett (10); his mother Carolyn Bradford Daniels; and his siblings: Kim Christenson, Joe Bradford, Julie Pizzorni, Laurie Crumpton, and Tom Bradford.