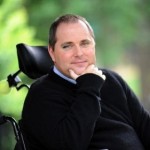 Current Position
Executive Director & Founder, High Impact Network of Responsible Investors
Community Involvement
Co-Founder and President, Aurora: The Business Forge
Board Chair, Commercialization Advisory Board for the Rick Hansen Institute
Board, Street Grace
Senior Fellow at the Georgia Public Policy Foundation
Former Chairman, Georgia Department of Community Health
Emory University's Healthcare Advisory Board
Other Hobbies         
Childhood Hero
What is something most people don't know about you?
That I am 5' 9" tall (out of my wheelchair)
Overview
Ross Mason is a venture philanthropist focused on making Georgia (GA) a national and global leader in health innovation. Originally from Madison, GA, Ross became passionate about healthcare after volunteering at an AIDS hospital in Zambia the summer of 1999. In 2004, he created HINRI (High Impact Network of Responsible Investors) which is a venture philanthropy that works with "portfolio partners" to serve the indigent and uninsured, autistic children, wounded warriors and their families (with The Family and Warrior Support Team of the Joint Chiefs of Staff), victims of sex trafficking (as part of a national pilot with the Obama White House) and institutions that protect human rights.
Ross is the former Chairman of the Department of Community Health Board ($11.2 billion annual budget, 660,000 covered lives, the 3rd largest health plan in the United States), former Chairman of the Metro Atlanta United Way's Health Access Board (www.unitedwayatlanta.org), and former Chairman of the Board of Visitors at Georgia Regents University (www.gru.edu). Ross is the current Chairman of the Commercialization Advisory Board for the Rick Hansen Institute (a Canadian-based non profit organization committed to accelerating the translation of discoveries and best practices into improved treatments for people with spinal cord injuries – www.rickhanseninstitute.org) and serves on the Board of Directors of Street Grace (a nonprofit in Metro Atlanta that is working to end domestic minor sex trafficking in Atlanta and throughout the United States – www.streetgrace.org). He also serves as a Senior Fellow at the Georgia Public Policy Foundation (a nonprofit, nonpartisan research institute that works to improve the lives of Georgians through public policies that enhance economic opportunity and freedom – www.gppf.org) and Emory University's Healthcare Advisory Board (www.emory.edu).
In his professional life Ross is an entrepreneur, angel investor, and strategic advisor. He lived and worked in San Francisco from 1999 to 2004 where he started and sold a healthcare software company. He also worked for Volkswagen's Healthcare Venture Accelerator Fund in Germany, was an Associate in Private Banking at Morgan Stanley, and created a real estate investment and development company in Moscow, Russia that he owned and operated for 12 years. Today, he is an investor in and board member of a number of healthcare companies.
Prior to his accident in 2007, Ross was actively involved in triathlons, wreck, cave, and ice diving, surfing, rock and ice climbing, and was a NASCAR certified driver.
Today, Ross is focused on solving the world's most difficult health challenges through his venture philanthropy – HINRI (pronounced like "Henry") – which partners with some of the world's leading healthcare innovators to serve the indigent and uninsured, wounded warriors and their families, autistic children and victims of sex trafficking.
He holds a bachelor's degree in Industrial and Systems Engineering from Georgia Tech and a masters of business administration in finance from The Wharton School. He also studied literature and history at Oxford and Russian at Middlebury College.