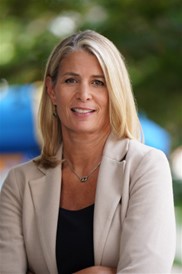 Current Position
President, Cristo Rey Atlanta Jesuit High School
Community Involvement
Leadership Atlanta Class of 2023
Emory University Board of Visitors
Cristo Rey Network National Board
Metro Atlanta Chamber Board
Central Atlanta Progress Board
American Enterprise Institute Leadership Network alumna
Hobbies
As a military brat, Camille's family moved often, which spurred in her a love of travel. Luckily, her husband flies for Delta Air Lines and her family takes full advantage of their flight benefits.
Recent Books
The Nightingale by Kirstin Hannah; and the Martha Kelly series – Lilac Girls, Lost Roses and Sunflower Sisters
Childhood Hero
My mother was my childhood hero. While she was a gentle woman, there was a fighting spirit within her that she used to provide her children with amazing life experiences as we moved around the world.
What most people don't know about you?
I have been "trapped" on an aircraft carrier. As the Director of Government Affairs for the Jacksonville (FL) Chamber of Commerce, I was flown out to spend 24-hours on the USS Saratoga (CV-60)
Bio
Cristo Rey Atlanta Jesuit High School is a Catholic learning community that educates young people of limited economic means, of any faith or creed, to become men and women for and with others. It is part of a network of 38 Cristo Rey schools across the U.S. The first Cristo Rey school was founded in Chicago in 1996 out of concern that low-income students did not have access to quality education and a pathway to college. Cristo Rey schools address this need by providing a private, college preparatory education for students who demonstrate strong potential for academic and workplace success and whose families could not otherwise afford private school tuition.
Cristo Rey Atlanta students come from families whose overall average household income is $35,000 for a family of four. Through the school's innovative Corporate Work Study Program, students earn 60% of the cost of their own education working one day a week in the offices of over 130 metro Atlanta companies that partner with the school.  Students are 99% persons of color, and all 739 alumni have achieved a 100% college acceptance rate. Cristo Rey Atlanta provides consistent, high quality learning that accelerates growth and achievement to ensure college readiness. Through the rigorous college preparatory curriculum, integrated with the Corporate Work Study experience, students graduate prepared for college and life.
As one of the first employees at Cristo Rey Atlanta, Camille spent a year working with a small team to establish a Cristo Rey school in Atlanta. In July 2014, the school opened as the 28th school in the Cristo Rey Network. Camille became the second president of Cristo Rey Atlanta in July 2020.  Prior to her role as president, Camille was Vice President of Advancement and Corporate Partnerships.  She was responsible for raising over $30M in just 14 months to build the school campus at 222 Piedmont Ave., and she worked with 130+ corporate partners to provide all students with meaningful work experiences through the Corporate Work Study Program.
Camille holds a Bachelor of Arts degree from Miami University, an M.A. in Educational Leadership from the University of Notre Dame, and has completed nonprofit management programs at Harvard Business School and the Kellogg School of Management. Camille and her husband Tim have two children; Mac who works for EY in Nashville, and Clare who is in graduate school at Boston College.