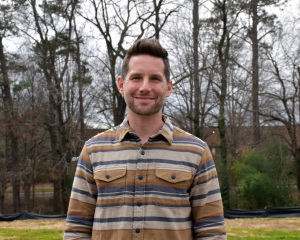 Current Position
Executive Director, No Longer Bound
Community Involvement
Member of Rotary Club of North Forsyth, Forsyth County Drug Awareness Council and North Point Community Church.
Graduate of 2015 Leadership Forsyth
Atlanta Business Chronicle 2016 "Forty Under Forty" class
"Top 40 Under 40" by North Atlanta Business Post and The Atlanta Business Chronicle
Selected to attend Harvard Business School for Strategic Perspective for Non-Profit Management
Hobbies              
Pickleball
Working out
Spending time with family
Recent Books
"Start with Why" by Simon Sinek
"How to Lead When You're Not in Charge" by Clay Scroggins
Childhood Hero
What most people don't know about you?
I am a really obnoxious Lebron James fan.
I went to Harvard… for a week.
Edward Bailey is not only the Executive Director of No Longer Bound; he is also a former client and one of hundreds of success stories.  Edward was homeschooled and came from a loving, two-parent home. A restless, reckless, and rebellious spirit led him to experiment with drugs and alcohol. Before he knew it, he was a full-blown meth addict. Thankfully, his family found help for him at No Longer Bound, which Edward attributes to saving his life. He entered the program on July 21, 2004, finding hope and healing, and discovering a calling to help save those impacted by addiction. During his leadership, No Longer Bound has gone from a heartfelt ministry to a licensed treatment facility providing passionate support and clinical care to men battling addiction. Edward now lives in Cumming, Georgia with his wife, Jennifer, and two young daughters, Falyn and Farrah.
No Longer Bound (NLB) is a faith-based, 12-month residential program for adult men with drug and alcohol addiction. Its mission is rescuing addicts, regenerating men, and reconciling families. Since its founding in 1991, the potency, prevalence, and deadliness of drugs has signficiantly increased, changing the trajectory of addiction.  According to the National Institute on Drug Abuse, 192 people die in the U.S. from drug overdoses every day.  That figure is up from 46 in 1999 and now equates to a loss of life equal every three weeks to the number who died in the 9/11 attacks.
No Longer Bound's graduation rate of 70% is significantly higher than traditional short-term and long-term treatment programs; and NLB is primarily self-sustaining through revenue earned from four industries: NLB Furniture, custom farmhouse furniture and other home décor; NLB STUDIOS, a marketing and branding agency built on regeneration; NLB Thrift, upscale thrift stores in Cumming and Woodstock; and NLB Cars4Recovery, accepting donations of all types of vehicles for resale. The remainder of the operational budget is raised through fundraising.