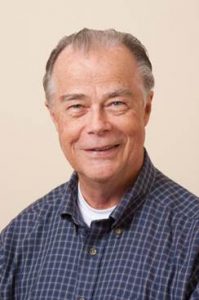 William T. Schwendler, Jr. of Dunwoody passed away at the age of 77 in May of 2018.  Bill was born May 23, 1940 in Mineola, NY and grew up in Farmingdale, NY.  The affable Bill maintained his curiosity and interest in learning throughout his life.
After attending Deerfield Academy, Princeton University, Harvard Business School, and serving several years as a Navy Officer, Bill began a 25+ year career with Grumman Corporation, the diversified aerospace company his father co-founded before World War II. While leading Grumman's environmental services subsidiary, Bill met his loving wife of 47 years, Barbara Ann, in Anchorage, AK. They married in 1971 and moved to Dunwoody in 1978 when Bill assumed responsibility for Grumman's Southeastern Region.
After leaving Grumman, Bill focused his energy on community service and non-profit management.  In 1991, he joined the Board of Directors of Interfaith Outreach Home (IOH), which helps homeless families learn skills to be self-sustainable.  Bill served IOH and its constituents for many years in multiple roles.
In 1997, he created and led for many years the Social Enterprise Initiative Scholarships at the Harvard Business School Club of Atlanta.  This program sends Georgia nonprofit leaders to executive education courses at Harvard Business School for free.   More than 80 outstanding nonprofit leaders have attended since 1997 including five chosen in April.  The program has become a model across HBS Clubs nationally.
Bill's passion for Naval aviation and youth mentorship also called him to volunteer with the Metro Atlanta Navy League Council, for which he founded the Leadership Fund, which provides scholarship awards to top cadets in 50 ROTC and Sea Cadet units in the Atlanta region. With the Cradle of Aviation Museum on Long Island, NY, Bill was instrumental in developing the carrier deck exhibit, which includes three restored Grumman aircraft, and supporting technical education for local high school and college students.
Additionally, Bill was an engaged member of the Marist School community, co-leading several key capital campaigns.  He was also a long-time parishioner of St. Jude the Apostle Catholic Church, being an active volunteer and educator.  He also taught personal finance courses for engaged couples at the Catholic Center of Atlanta.
An amiable man, he was generous with his time, resources, and goodwill and touched many people's lives with his service, kindness, and good nature.